On Thursday, January 30th, we were excited to announce that our Community Impact Debit Card program raised a record donation amount in 2019 of $49,846.90.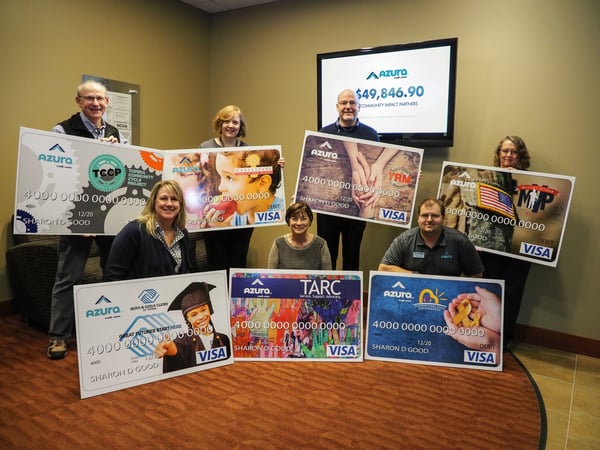 Community Impact donations for 2019 were as follows:
"Our Community Impact Card provides an important voice for our membership, letting us know where they want to give back. The program has grown in leaps and bounds over the past few years. We are so excited that 2019 was a record breaking year in donations for this program, with donations totaling $49,846.90! Over 4,300 members currently participate in this program, with 1,600 new cards issued in 2019, and we anticipate continuous growth in 2020. We want to thank our membership for con­tinuing to go above and beyond in their participation, because the more our members use their Community Impact debit cards, the more we are able to donate." said Katie Beach, Azura Community Development Manager.
What is the Community Impact Debit Card Program?
The Community Impact Card program is available with all Azura checking accounts, free of charge. Members may select one of the participating organizations for their debit card. Each time a card is used to make a purchase, Azura Credit Union donates five cents to the organization selected. Funds come from Azura, not the account-holder. This program provides Azurans with the opportunity to select an organization close to their heart, with donations dollars coming from Azura, resulting in an easy win for the community.