Azura Credit Union's Community Impact Debit Card program had another record breaking year raising $75,681.60 for participating organizations in 2020.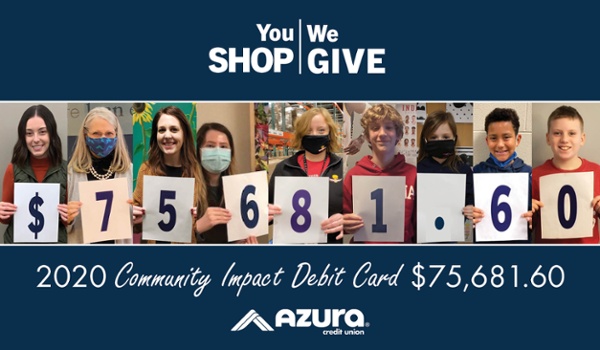 The amount raised over the previous year was an increase of $25,843.70, marking a fifty percent increase in growth. Donations are raised by Azura checking accountholders selecting a specific non-profit and using their debit card. Community Impact funds raised in 2020 were designated to the following organizations:
The Community Impact Card program is available with all Azura checking accounts free of charge. Accountholders may select one of the participating organizations for their debit card. Each time a card is used to make a purchase, Azura Credit Union donates five cents to the organization selected. Funds come from Azura, not the member's account. This program provides Azurans with the opportunity to select an organization close to their heart, resulting in an easy win for the community. Learn more about our Community Impact program.
"Our Community Impact Card provides an important voice for our membership, letting us know where they want to give back. Last year was a difficult year for many in the community and especially our community partners. The increase in participation allowed us to designate more community funding which is a win, win for everyone. We were also able to add two new card options in 2020 with the Stormont Vail/Children's Miracle Network card and the Shawnee Heights USD 450 card. We now have over 5,500 members currently participating in this program, their continued participation and support make Above and Beyond Banking possible," said Katie Beach, Azura Community Development Manager.