Credit Unions were founded on the principle of "People Helping People." At Azura, our associates are encouraged to live that motto through their volunteer work within the community. We truly appreciate the Above and Beyond effort our employees put in and enjoy recognizing an employee each month for their volunteer efforts! Read on to see who was chosen for Azura's February Volunteer of the Month.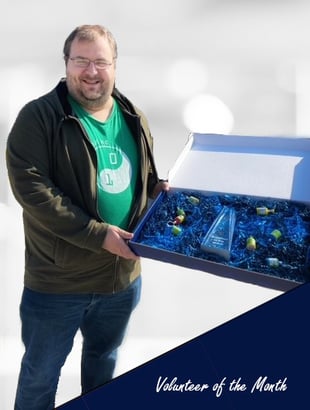 Our February volunteer of the month is Lewis, our Training Associate. Volunteering has been a big part of Lewis' life, since childhood. We caught up with Lewis and asked a few questions about where and why he volunteers.
Where have you volunteered recently?
I volunteer at the following places:
Why did you decide to become a volunteer?
As a kid I was part of an youth organization in the UK called the Air Training Corps. I was with them from 13 to 18 years old. As an adult, I stayed and became a staff volunteer. When I moved to the United States I wanted to stay involved so I joined Civil Air Patrol. About two years ago, I started getting interested in programing so I became a mentor with CoderDojoKC.
What's your favorite thing about volunteering?
Both the organizations I volunteer with are heavily focused on helping young people learn to love science, technology, engineering and math. There is something remarkable about the change that happens in a young person when they are struggling with a problem and then get it. Its also very motivating, the best way to learn a skill is to teach it to someone else.
If someone is deciding whether or not to volunteer - what would you tell them?
Do it! There are a lot of organizations that need volunteers, especially now. Retirees are often the most dedicated and reliable volunteers. With COVID being particular dangerous for older people, it's up to younger people to pick up the slack. Find what you love and help out, you will get out way more than you put in.
Thank you Lewis for going Above and Beyond and serving our community!