Credit Unions were founded on the principle of "People Helping People." At Azura, our associates are encouraged to live that motto through their volunteer work within the community. We truly appreciate the Above and Beyond effort our employees put in and enjoy recognizing an employee each month for their volunteer efforts! Read on to see who was chosen for Azura's May Volunteer of the Month.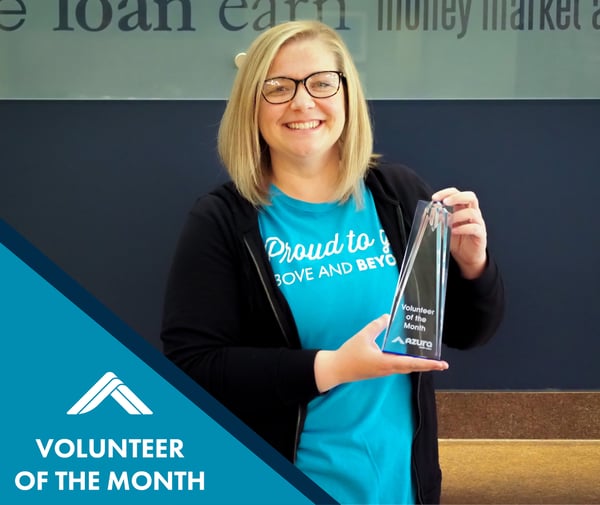 Our May Volunteer of the Month is Hannah, our Loan Operations Manager. We caught up with Hannah and asked a few questions about where and why she loves volunteering.
Where have you volunteered recently?
I am currently serving on the Heartland's Got Talent Committee
Why did you decide to become a volunteer?
It was suggested by senior management at Azura that I would be a perfect fit for this committee so I jumped at the opportunity. The virtual talent show we are planning translates votes into dollars - those dollars then become grant funds for use by credit unions in our communities! I am passionate about the roles credit unions play and CAN play in our communities, so this is a great way to spread the "people helping people" message and illustrate our importance.
What's your favorite thing about volunteering?
Collaboration towards a shared goal. It feels good to be a part of something, to put good out into the universe, and to see those efforts have a positive impact on the community.
If someone is deciding whether or not to volunteer - what would you tell them?
Giving of yourself is a great way to express gratitude. Expressing gratitude releases some real good happy vibes in the brain. It's good for the soul.
Thank you Hannah for going Above and Beyond and serving our community!