What if you could save money and donate to a good cause at the same time? For Azura Credit Union members, our Skip-A-Pay program during the winter holidays allows them to do just that! Skip-A-Pay is another way that our members can live the credit union motto of "People Helping People" while enjoying a little extra jingle in their pocket.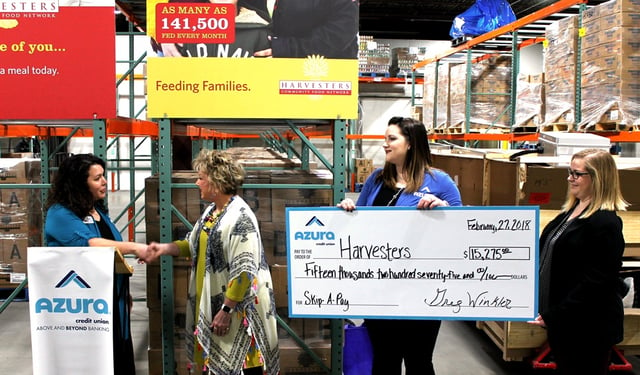 How does Skip-A-Pay work?
While the holiday season can stretch your budget, Azura wanted to create a way to promote "People Helping People" while also helping their membership. From November through January, Azura members could opt to "skip" a loan payment one time with a donation to Harvesters — The Community Food Network. Members were able to save a little cash in their wallet, while still giving back to the community.
Who is Harvesters — The Community Food Network?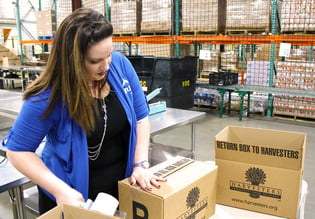 Serving a 26-county area of northwestern Missouri and northeastern Kansas, Harvesters provides food and related household products to more than 620 not-for-profit agencies including emergency food pantries, community kitchens, shelters and others. Harvesters is also a partner for Azura's Community Impact (CI) Program, where members trigger a 5 cent Azura donation every time they make a purchase using their Azura CI debit card.
Amber Baker, Azura employee and Harvesters Ambassador, "Volunteering with Harvesters has quickly become a favorite among Azura associates. We love giving back to an organization with our time and our funding because they help so many with a necessary fundamental need. Food insecurity effects so many in our community, we are happy to be able to work together to help them in their heroic efforts."
This Year's Results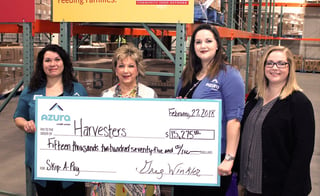 We are pleased to share that over 600 members participated this year in Skip-A-Pay. On February 27th, Azura was able to present Harvester's with a check for $15,275! Jannett Wiens, Corporate Engagement Manager for Harvesters, remarked ""The Azura gift will provide more than 45,000 meals to food-insecure families in our community. What a tremendous impact this gift will make." The proceeds were collected from Topeka, Lenexa and Fort Riley locations. Harvesters is sharing this donation throughout the communities and area that Azura serves in the region of Northeast Kansas.
Want to learn how you can continue to help Harvesters? Visit their website for volunteer