The COVID-19 pandemic has altered daily life as we know it, at least temporarily. You may be at home, wondering what you can be doing now to safeguard your finances. We have five easy steps you can take today, to feel better about tomorrow!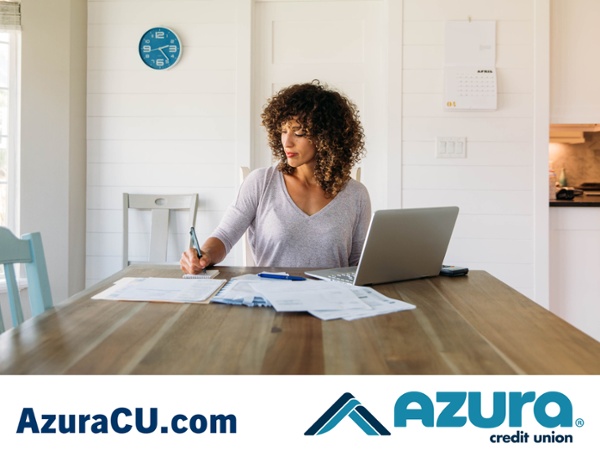 The Credit Union National Association (CUNA) has provided five simple steps members should take today. We have included a few Azura specific tips within these steps for the benefit of our members.
1. Visit your financial institution's website.
Credit unions from coast to coast, including Azura, are adjusting their operations to help stem the spread of COVID-19 and protect members and employees. Make sure you're up to date on the latest information on branch hours, member assistance and more by visiting your financial institution's website. For Azura members, keep up-to-date here.
2. Protect your data.
Be vigilant about protecting your digital identity and personal data. If Azura reaches out, we won't ask for confidential information such as your name, password, personal identification number (PIN) or other account information. A recent report from NBC News notes that criminals are using COVID-19 as a basis for email attacks to snag personal information, steal money and infect computers with malware. Check out other common COVID-19 scams to protect yourself.
3. Practice banking digitally.
Azura members enjoy Online Banking, as well as our free mobile app. You can easily deposit a check using your mobile device or quickly and securely send money to others with digital payments. Using credit or debit cards for payments is especially important now when we all are being asked to practice social distancing. You can still meet most of your obligations without leaving your home, thanks to digital banking.
4. Be aware of financial resources, if needed.
We understand that financial situations can change quickly. If you are experiencing a financial hardship directly related to COVID-19 and would like to discuss loan extensions, payment options, or any other financial concerns, we're here to help. Our members are able to explore financial options by filling out this membership assistance form. We are here to help.
5. Remember, your money is safest at Azura
There are a lot of things to worry about these days, but the safety of your money at Azura isn't one of them. Azura Credit Union is federally insured by the National Credit Union Administration (NCUA). All deposits at federally insured credit unions are protected by the National Credit Union Share Insurance Fund, with deposits insured up to at least $250,000 per individual depositor. To learn more about the safety of your funds, read the latest press release by the NCUA here. There is no risk to keeping money in your credit union account, but there are countless risks to holding cash, as pointed out in this Wall Street Journal piece.