Topeka will be going green and seeing gold on March 17th to celebrate St. Patrick's Day! From blarney breakfasts to bed races to live Irish music, there isn't a shortage of revelry to be found. Here's our top picks to ensure your Saturday is filled with plenty of four leaf clovers and fun!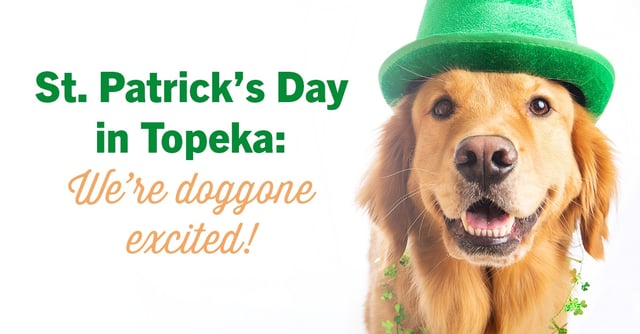 The Best Way to Start Your Day
What better way to begin your St. Patrick's Day celebration than with a hearty breakfast, bagpipers and face painting for the kids? Blarney is back! The Easterseals Capper Foundation is hosting its 22nd annual Blarney Breakfast! Join them at Blind Tiger starting at 7 a.m. for a downright festive start to your day.
Mater Dei Irish Fest
Mater Dei offers a full day of Irish celebration in Downtown Topeka. The seventh annual event is free and open to the public, so take advantage! The event sets up at SW 8th and Jackson and runs the majority of the day.
Enjoy "second breakfast" at 8 a.m., followed by an Irish Sing-a-long, a 5k fun run and a kid's carnival. Mater Dei will also be hosting live music throughout the day, as well as Irish Whiskey tasting, beginning at 12:30 p.m. For a full schedule of the day, visit the Irish Fest Topeka facebook page, or Mater Dei's Irish Fest website.
More Fun Downtown
Two words - Bed Race. It's not a typo, the St. Patrick's Day Bed Race is a long held tradition in Topeka! If you haven't witnessed this event, don't miss out. Teams of five face one another in a series of four races. Four people race a bed on wheels while the fifth person is a rider on the bed. This is a seriously fun event with a great cause! All racers' entry fees go towards Housing and Credit Counseling Inc (HCCI). Race down to 10th and Harrison at 10 a.m. to see this unique event.
Join your fellow leprechauns for the annual St. Patrick's Day parade in Downtown Topeka! The parade will begin at noon and the best seats in the house are along Kansas Avenue. Be ready to see awesome floats, cool cars, marching bands and bag pipers. For more information, check out the Parade's Facebook event page. Pro tip: We hear the brand new Pennant has mentioned that they will have the best view on Kansas Avenue for the parade.
If you're looking for a great block party, the Celtic Fox never disappoints on St. Patrick's Day. Don't forget to swing by for their annual celebration, featuring music by Nucklehead Jones. Follow updates on the event through this Facebook event page.
With all of these awesome activities and events, St. Patrick's Day in Topeka is sure to be FULL of luck and cheer. So, don your green and enjoy a beautiful day in Topeka. Who knows - you may even find a pot of gold at the end of the rainbow!