We sincerely appreciate the hard work and dedication required to provide the best possible service to our membership. That's why, each month, we will take a moment to get to know an Azura employee in our new series, "Meet the Team!"
Anne has been a friendly face at our 37th St. Extended Hour Branch for over 10 years! As the Branch Supervisor, she enjoys mentoring her associates and helping the many members that drive through each day.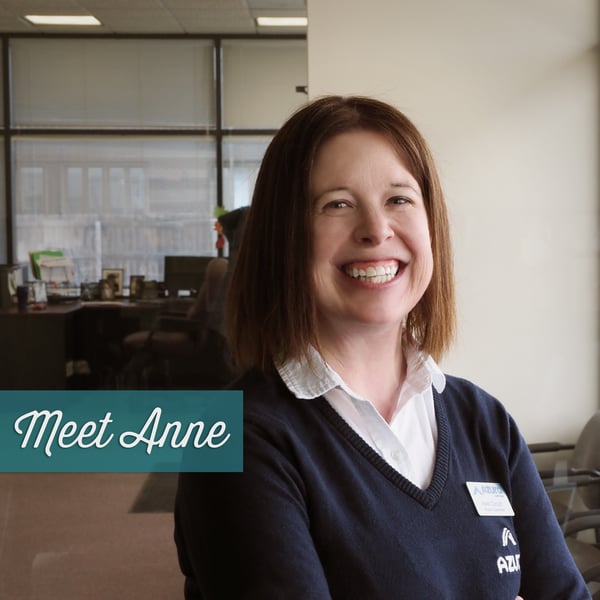 What is your role at Azura?
I am the Branch Supervisor for the 37th street Extended Hour branch. We have extended hours so we operate a little differently than full service branches. I am responsible for all aspects of this location. I oversee the daily operations within the branch, manage the teller line and actually conduct transactions on the teller line. I've been at this location for 10 years, so I have become a familiar fixture at this branch!
What sets Azura apart from other financial institutions?
I think that our community involvement is what really sets us apart from other CUs. Our Local Perks program is a great way to support and showcase local businesses AND saves the members money. We have our holiday skip-a-pay which gives our members a little monetary relief during the holidays while donating to a great cause. Our community impact debit cards are also fantastic!! A 5 cent donation to the charity of your choice any time you use the card?!?!?!? How is that not amazing?!? People are going to use their debit cards anyway so why wouldn't you want to donate to some great organizations at the same time?
If you could tell people one thing you appreciate most about credit unions, what would it be?
What I appreciate most about Credit Unions is the member service. We are able to provide a more personalized experience for the member and able to do more things for the community as a whole. Besides typically having less fees than a bank would, every member owns a share of the credit union. So, the board really is interested in the community and the needs of the members.
What do you like to do for fun when you're not at work?
I am really a bit of a homebody! I have two dogs that I absolutely adore, they're the best! If I could bring them to work, I totally would. I read a lot, and have a subscription to a Book of the Month Club. I watch a lot of reruns of The Office. I really enjoy cross stitching and love to make crazy gifts for my friends.
What's a quote you live by or love?
Well there are two and they are both from The Office.
The first one is "I love inside jokes. I'd love to be a part of one someday" -Michael Scott.
And the second one is "There's a lot of beauty in ordinary things. Isn't that kind of the point?" -Pam Beesly