We sincerely appreciate the hard work and dedication required to provide the best possible service to our membership. That's why, each month, we will take a moment to get to know an Azura employee in our new series, "Meet the Team!"
If you've ever visited our Kansas Ave branch, you have likely been greeted by our associate, Josh. Our members know him for his smile, friendly demeanor and how well he always remembers them! Learn more about Josh in this month's employee feature!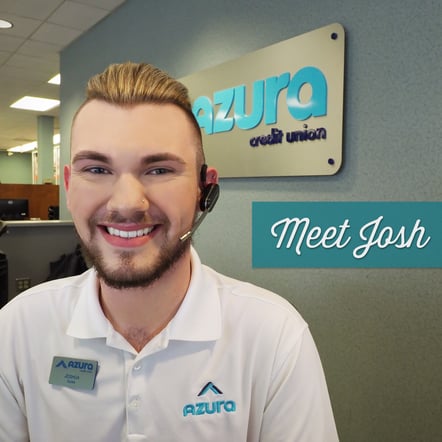 What is your job title and what are some of your roles and responsibilities?
I work as the Guide at our 12th and Kansas Avenue branch. As the Guide, I primarily serve as a liaison between our remote Financial Associates and the members utilizing our Video Banking experience in branch. When you come into my location, I help to assess your needs and see you through your visit to ensure you experience above and beyond service!
What do you think sets Azura apart from other CUs?
I absolutely LOVE the work Azura does for our community. Whether it be through our availability to take time away from work to volunteer for an organization of our choosing, or the Community Impact Debit Cards that allowed us, on behalf of our members, to donate over $29,000.00 to local not for profits in 2018- Azura's commitment to bettering our community really puts us a cut above the rest.
If you could tell people one thing you appreciate most about credit unions, what would it be?
I think the thing I appreciate most about credit unions is the amazing member service they provide. When you become a member of a credit union, you immediately gain a strong team with the primary goal of helping you reach your financial goals. It was the service that I received as a member of Educational Credit Union that inspired me to come serve others!
What do you like to do for fun when you're not at work?
I am a HUGE music junkie, anytime I'm away from the CU I am surrounded by music. I already have more than ten concerts scheduled for the first half of 2019, and I'm always looking for local live music! I love to travel, I spend a ton of time just kicking back with friends, and I'm forever in search of the best food around.
What's a quote you live by or love?
American actor, model, singer/songwriter, TV personality and LGBT+ advocate Rupaul Andre Charles once said, "When you become the image of your own imagination, it's the most powerful thing you could ever do."