We sincerely appreciate the hard work and dedication required to provide the best possible service to our membership. That's why, each month, we will take a moment to get to know an Azura employee in our new series, "Meet the Team!"
Kelli is a Contact Center Associate. Kelli and her team are most often times your first point of contact when you reach out to Azura!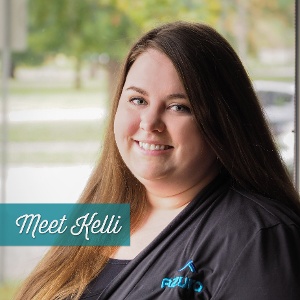 What is your role at Azura?
I am a Contact Center Associate, most likely when you give us a call, you'll be directed one of us! We do quite a lot of things down here. Transaction history, balance inquiries, wire transfers, fresh start loans, visa applications, scheduled payments, loan payments, online banking and secure chats, and that is only part of it! We are jacks of all trades!
What sets Azura apart from other financial institutions?
Azura stands out because of our commitment to our community. There is always something going on in the Topeka and surrounding areas that we are involved with. Most recently we have been very involved in raising funds for Breast Cancer Awareness which is close to my heart because my mom is a survivor herself. I love how Azura is consistently working to improve the lives of people in the community through service. We really live by our mission and values. Plus, we're friendly people, we love our members!
If you could tell people one thing you appreciate most about credit unions, what would it be?
The products and services are here to help members. There are so many tools that are free to utilize to help yourself become financially literate. Credit unions were built for people to help them succeed in their financial goals and dreams.
What do you like to do for fun when you're not at work?
Typically, I enjoy going home and watching Netflix in my comfy clothes snuggling my dog. However, I also love adventuring and trying something new. My husband and I frequently go on random weekend trips to areas close enough to drive to. We just got back from Eureka Springs Arkansas and plan to go to Weston, MO and Branson soon!
What's your favorite quote?
"Never let a bad day make you feel like you have a bad life" and "do what is right, not what is easy."