Credit Unions were founded on the principle of "People Helping People." At Azura, our associates are encouraged to live that motto through their volunteer work within the community. We truly appreciate the Above and Beyond effort our employees put in and enjoy recognizing an employee each month for their volunteer efforts! Read on to see who was chosen for Azura's October Volunteer of the Month.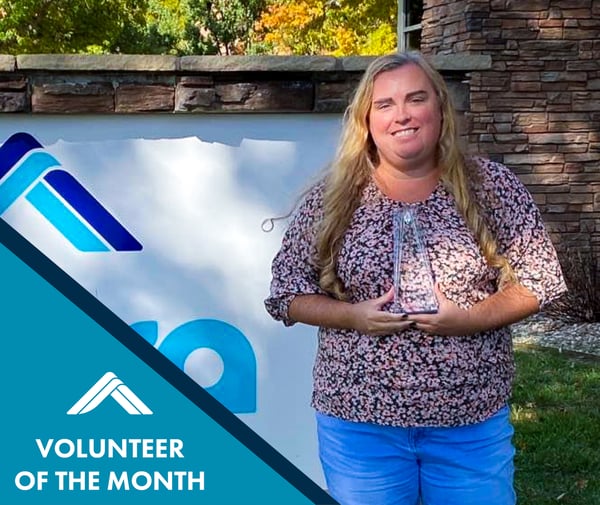 Our October Volunteer of the Month is Jessica Reid, our Marketing Content Developer. We caught up with Jessica and asked a few questions about where and why she loves volunteering.
Where do you volunteer?
Azura Employee Foundation Committee
Topeka Bible Church
Why did you decide to become a volunteer?
I started volunteering when I was in high school-where the motto was "enter to learn, leave to serve." I enjoy giving back to the community and making a difference in the lives of others.
What's your favorite thing about volunteering?
I really enjoy helping others! At my church, I volunteer on our technical arts team on Sunday mornings, where volunteers help run everything from the lyrics, cameras, live streaming, etc. It's really fun to come together as a team and be able to help others engage in the service.
As a committee member of the Azura Employee Foundation, I really enjoy hearing about all of the opportunities we have to help the communities we serve. There are so many awesome organizations doing great work in our area, and I am happy to play a small part in helping them succeed.
If someone is deciding whether or not to volunteer - what would you tell them?
Go for it! I always encourage others to try it at least once and see what they think. After that, you will be hooked!
Thank you Jessica for going Above and Beyond and serving our community!