On Oct. 22nd, Azura joined Topeka's local businesses to participate in the Greater Topeka Business Partnership Business Expo and the Small Business Summit. The Greater Topeka Partnership's aim is to help the area's business community thrive and these two events showcased their efforts.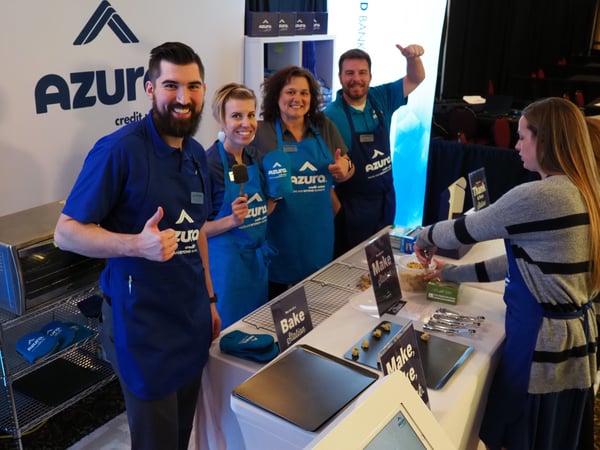 The Business Summit kicked off in the morning, providing small business owners the chance to participate in panel discussions. This year's discussions included talks about marketing strategies and alternative financing options. Attendees also enjoyed a luncheon with keynote speaker Paul Vitale. Vitale focused on spreading messages about leadership and determination. Later in the afternoon, business owners had a chance to participate in round table discussions that covered subjects like legal topics, banking and insurance.
The Small Business Expo portion of the day kicked off at 1 pm. This event, hosting over 100 business booths, was open to the public. Each year, businesses find creative ways to interact with attendees and show off their business!

Azura participated in the Business Expo by hosting a booth with a sweet touch! Attendees could help bake cookies to be sent to our U.S. troops overseas. Our Business and Home Loan teams were also there and enjoyed speaking with those who stopped by. At the end of the day, 500 cookies were baked and shipped with handwritten thank you notes to our deployed soldiers! We also are proud to have won "Most Creative Booth" at the event.
Thank you to the Greater Topeka Partnership for hosting these two great events and supporting our local businesses!