New scams seem to be popping up daily during the COVID-19 pandemic. We, at Azura, are working hard to spot these cons and share the information with you! With stimulus checks on everyone's mind, we wanted to cover a few of the top financial related scams that are popping up on our Scam Watch radar.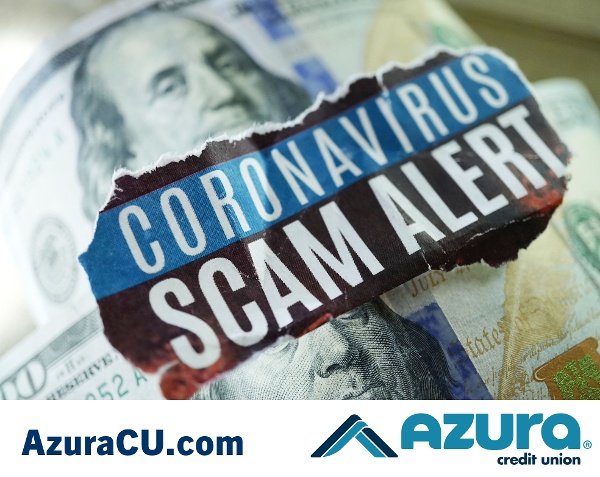 Read on to learn more about protecting yourself and your finances from these crooks!
Stimulus Check Scam
Many Americans are eagerly awaiting a much needed stimulus check. We cover information on these checks in our recent CARES Act blog post. Unfortunately, scammers are trying to take advantage of unsuspecting individuals. Many scammers are impersonating government agencies and reaching out via phone, text and email - demanding banking and personal information in order to deposit stimulus checks.
The government will not ask you for this information in order to deposit your check. Your most recent tax information will be used to either directly deposit your check, or to mail you a check with the address they have on file. For more information on receiving your stimulus check, visit this handy FAQ on the IRS website.
Charity Scams
Recently, charity scams have been appearing, many with a long list of worthy causes. Some may claim to help a medical student finish school, so they can jump in to combat the virus. Others offer purchasing of protective gear for area clinics and hospitals. We have even seen a few posing as families asking for money to test for the virus. Donations are typically requested via email or text, or through a crowd funding source - like GoFundMe.
Before you donate, do some digging! Find out more info by doing thorough research on the request (by googling the charity and visiting their website directly) or only donating to those charities you know and trust to be legitimate.
Provider Scams
This is an old scam, with a new twist! Folks are receiving calls from scammers posing as doctors and medical providers. The scammers demand payment for the treatment of COVID-19 that a friend or relative has received.
We highly recommend you hang up on a phone call like this, and immediately contact your friend, relatives or anyone close to them to get confirmation. Hospitals should not be contacting folks directly and asking for payment information over the phone.
Investment Scams
A recent Investor Alert from the SEC's Office of Investor Education and Advocacy warns of Internet promotions, including on social media, claiming that the products or services of publicly traded companies can prevent, detect, or cure COVID-19, and that the stock of these companies will dramatically increase in value as a result. The alert cautions that these promotions often take the form of so-called "research reports" and make predictions of a specific "target price," and urges investors to be wary of these promotions and to be aware of the substantial potential for fraud at this time.
Before you decide to make any changes to your investments, do some research. You can check the validity of some of these offers by visiting the FINRA BrokerCheck, a free online tool to get information on brokers and investment advisors. Another great tool is FINRA'S Scam Meter. Plug in your information here and see what the experts say!
By being informed and alert, you can avoid these financial scams. As always, if you run into a question about your finances, reach out to Azura at (785)233-5556 and we will be happy to help!