We are excited to announce a new and exciting way to support, explore and celebrate local businesses. With your help, we will select and highlight unique businesses in our community and learn more about them through a monthly business highlight on our Azura Above & Beyond Blog and social media channels.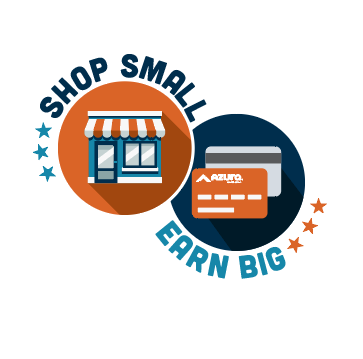 ---
Shop Small, Earn Big's featured September business: Pinkadilly. Find out more about this exciting Azura Credit Union program and the featured business!
What is Shop Small, Earn Big?
Shop Small, Earn Big is a new and exciting program Azura Credit Union is offering our membership in 2021 and beyond. We believe in celebrating local business, while also offering a fun incentive for our members to shop local! Each month, we will feature a local business. If Azura members use their personal Azura debit or credit card at the featured business, they will be entered for a chance to win $100 at the end of the month!
What business is featured this month?
Our September 2021 featured business is
Pinkadilly.
Pinkadilly is an upscale, funky boutique that is your one stop shop for a gift for just about anyone! They offer a wide arrangement of unique home accessories, gifts and some of the latest clothing trends for both average and plus size.
How long have you been in business?
8 years
What is your favorite thing about having your business in our community?
As a lifelong Topekan, it's wonderful to invest in where you have grown up.
Is there a certain dish, product, or service at your business that you would recommend a first timer trying?
Our "I am Topeka" gear to show community pride.
I want to nominate a business for this program - how can I do it?
We are always looking for your favorite local businesses to feature! Nominate a business today.