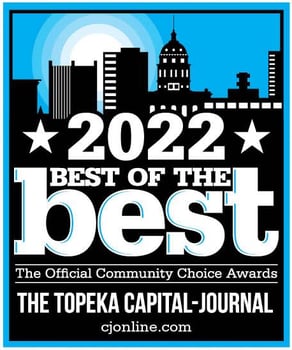 The Topeka Capitol Journal's "Best of Topeka" Community Choice Awards has come to a close, and we're ecstatic to share we placed first in the following categories:
Best Employer (101-500 Employees)

Best Financial Services
In addition, we placed in the top three for
Thank you, Topeka, for letting us serve you and our wonderful community!
More about the Best of the Best program:
The Topeka Capital Journal's Best of the Best program polls the local community to select the best businesses and organizations in the area. Through nominations and voting, they choose in more than 150 categories in Beauty & Health, Clothing, Dining, Entertainment & Leisure, Home, Home Services & Finance, Kids & Education, Media, People & Places, Services, Shopping, Spirits, Sports, Top Employer and Vehicles Dealers & Services.