At Azura, we take banking Above & Beyond because we are built to serve our community and make it a better place for everyone by giving our time, knowledge, and resources to support local organizations.
Our volunteering
brings people together, strengthens our community, and makes our staff healthier by reducing stress and strengthening our immune system.
Laura DeVoe, an Internal Auditor at Azura, is investing in our community by volunteering for the United Way program Junior Leader Reader.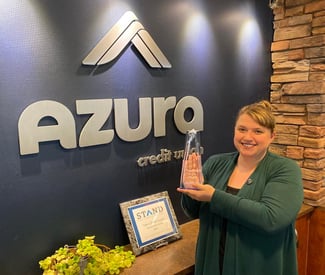 Laura volunteers her time by reading to kindergarten classes participating in the Junior Leader Reader program. As part of her volunteer work, she'll give each student a copy of the book she read that's been donated to the class.
The reason she became a volunteer for United Way's program is the same reason she loves volunteering! "Some of the kids in the classrooms don't have access to books at home," said Laura. "Many were excited to finally be able to write their names in a book they got to call their own, and that is really rewarding."
This kind of work allows her to be active in the community and feel good about her impact in the world.
Learn more about how Azura helps, and if you want to work to create tangible, sustainable solutions to make our community better each day check out our career openings and come join us!