Stormont Vail Health in partnership with Children's Miracle Network are two fantastic organizations that Azura has been proud to partner with through our Community Impact Debit Card program, our associate volunteering efforts and various grants and donations.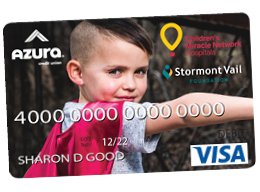 Tell us about your organization and partnership
Stormont Vail Health is proud to be one of 170 member hospitals of Children's Miracle Network. Through its various fundraising partners and programs, Children's Miracle Network raises funds to support healthcare services, pediatric equipment, charitable care and more for hospitals across the nation. Every dollar raised for Children's Miracle Network stays local, meaning that your funds directly benefit kids in your local community at Stormont Vail.
What types of programming do you support?
Children's Miracle Network at Stormont Vail supports a variety of funding needs that our crucial in our pediatric departments, including our Child Life program, the NICU Follow-Up Clinic, upgrades to pediatric equipment, and programs that support healthy breastfeeding initiatives.
What are ways community members can support Children's Miracle Network at Stormont Vail?
Community members can support Children's Miracle Network at Stormont Vail in a variety of ways, including volunteering for our events, becoming a donor, or even hosting their own fundraiser to benefit CMN. One of the easiest ways anyone can show their support is by simply saying "yes" to rounding up their purchase to benefit CMN when visiting our corporate partners such as Ace Hardware, Dairy Queen, Walmart, and Panda Express.
Do you have any upcoming initiatives?
Each year, Walmart across the country fundraise each summer with one goal in mind: to help sick and injured kids. The Walmart Campaign to benefit Children's Miracle Network is coming up from June 28 – July 25. Walmart customers will have the opportunity to donate an amount of their choosing or round up their purchase at the registers to benefit Stormont Vail during the 4-week campaign. Walmart associates will put on creative fundraising initiatives throughout the store during the campaign. Please consider shopping at Walmart for all your home needs this summer and be sure to roundup for the kids!
Also, Dairy Queen is currently participating in the Miracle Balloon Campaign. Customers can support CMN Hospitals by purchasing a paper balloon for the store to hang up on their behalf. Consider stopping into your local DQ for a summer treat and to give back to the kids
!
How can people sign up to learn more about getting involved?
We are always looking for individuals and groups to get involved in our efforts! For more information, please contact Hannah Maddy, Children's Miracle Network Program Manager at hannah.maddy@stormontvail.org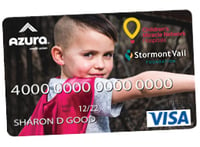 Azura members can give back to CMN at Stormont Vail with every swipe of their Community Impact debit card - learn more now!