Azura Credit Union presented Stormont Vail Foundation with a $5,000 check today at Stormont Vail Health, 1500 S.W. 10th Ave, Topeka, KS 66604. Amy Burns, Stormont Vail Foundation's President and Executive Director, accepted the donation. These funds will help support Stormont Vail Health's Child Life Program. The program provides support to patients and their families in the process of navigating treatment and hospitalization.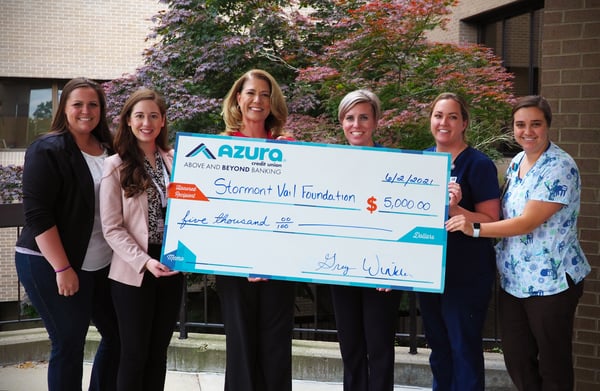 The Child Life Program provides Child Life Specialist to those families in need. The specialist provides emotional support for patients and families to help reduce the stress and anxiety that can come with hospitalization and other health care experiences. These specialists are available to meet with patients and their families, conduct hospital tours prior to procedures, offer creative and therapeutic activities that help in the healing process and much more. They promote effective coping through play, preparation, education and self-expression activities. The program recognizes that physical and mental activities are an essential part of the healing process and ensures that these specialists are at the child's bedside and in the pediatric playroom to help patients have positive experiences during their hospital visit.

"Our Child Life Specialists help our most vulnerable patients during their time at Stormont Vail Hospital," said Amy Burns, President and Executive Director, Stormont Vail Foundation. "We are thankful to Azura Credit Union for donating to our program to support the work of our team as they help our patients feel less stress and anxiety through therapeutic play, activities and more."

"We are proud to support the Child Life Program offered through Stormont Vail Health. We believe this donation will make an impact in the lives of many young patients and their families. It's amazing how a Child Life Specialist can help turn a difficult hospital stay into a more comfortable situation for everyone involved. Stormont Vail Health continues to go above and beyond for their patients through their service and programs they provide," says Katie Beach, Azura Community Development Manager.