Azura Credit Union surprised Topeka Rescue Mission on Monday, February 3, 2020 at 10 a.m. at the Topeka Rescue Mission Distribution Center, 401 NW Norris, Topeka, KS 66608. Barry Feaker, Topeka Rescue Mission's Executive Director, accepted the surprise donation of $21,225.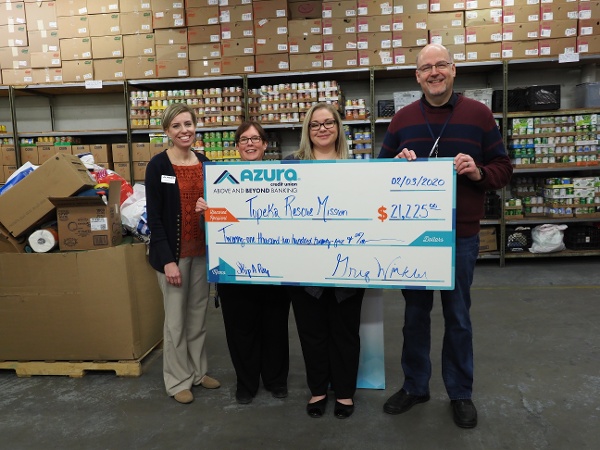 These funds were raised by member donations from Azura's annual Skip-A-Pay program. The Skip-A-Pay program allows members to skip a loan payment by making a charitable donation during the winter holiday months. This year, Azura chose helping the homeless to be the focus of Skip-A-Pay donations.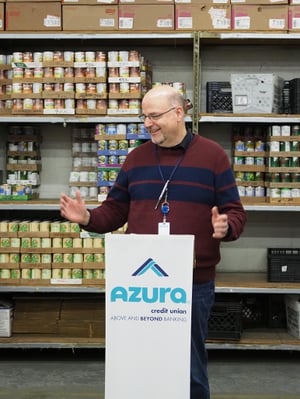 Barry Feaker, Executive Director notes,"The Topeka Rescue Mission is truly grateful for the ongoing partnership with our great friends at Azura. Through Azura's support in volunteering, promoting the Community Impact Card and numerous other initiatives, Azura helps TRM to continue to provide services to those in need throughout our community. Our friends at Azura truly exemplify, "faith with their sleeves rolled up!"

"It is our honor to have such outstanding community partners like Topeka Rescue Mission. We believe this donation will make an impact in the lives of many people in our community. The Skip-A-Pay program is loved by our members because they can skip a loan payment while making a difference. We are excited that this Skip-A-Pay season was a record-breaking year for the program, with funds reaching $21,225! Our members believe in giving back, going above and beyond and it shows," says Katie Beach, Azura Community Development Manager.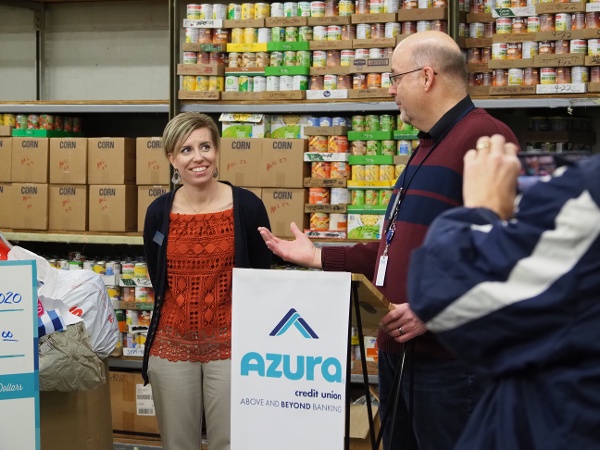 "Every year we are inspired by the impact these funds are able to accomplish from our Skip-A-Pay program. We are grateful to have such generous members and to have a team of associates who put in extra work over the past few months to help this program be a success. It takes a lot of extra work to make this program happen every year and I want to say 'Thank you' to our employees and members who showed such generosity with their money and their time," said Janice Davis, Vice President of Lending at Azura Credit Union.
Interested in other ways you can help the Topeka Rescue Mission? Sign up for a TRM Community Impact debit card! Learn more now.