There's a new place for teens to hang out in Topeka. Have you seen the renovations the Boys & Girls Clubs of Topeka (BGC) have done at their Teen Center? The official ribbon cutting occurred in late April and we are happy to share information and pictures of the Azura Tech Room in the newly renovated Teen Center!
What is the Boys and Girls Club Teen Center?
The Teen Center is a fantastic place for Topeka youth to gather. The Teen Center opened in June 2015, with 38 enrollees. Since 2015, the program has grown to cater to over 200 teens today! The Boys & Girls Clubs of Topeka has been hard at work to open even more space and opportunities in the Teen Center. In late April 2018, BGC officially opened the lower level after months of renovations.
Some impressive highlights about the Teen Center include:
Full sized kitchen for teens to learn culinary skills for themselves and their families


Food pantry for the East Topeka community

Ran by the teen Club members

The pantry gives the opportunity for teens to learn customer service skills.
They also will order food, stock shelves, and help with marketing.

Program space to ensure programs like SMART Moves and Career Launch are successful

SMART Moves is a nationally acclaimed prevention program. The program incorporates the latest information and approaches that BGCA has learned about effective prevention. Participants are exposed to various activities designed to hone their decision-making and critical-thinking skills in regards to tough situations.
Career Launch is BGCA's job-readiness and career preparation program for teens. It provides fun and interactive activities for youth ages 13 to 18 to explore a broad range of career areas, match their interest to career clusters and identify the skills and education needed for their particular career path.

Game Room that will be set up like a college "union-type space," including televisions and space to work on homework so teens can get accustomed to that environment.
The Azura Tech Center
The Azura Tech Center is part of the lower level renovation. It will be a hub for Topeka area teens to take specialized classes and more. The Tech Center boasts fresh paint, carpet and fun Azura touches. It is also home to twelve new computers and a smart board for the teens to use. We are thrilled to be part of the Teen Center and are excited for the possibilities the Tech Center provides to Topeka teens.
How You Can Get Involved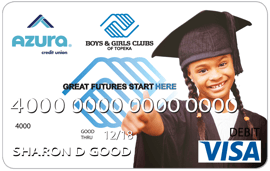 The Boys & Girls Clubs of Topeka is an Azura Charity of Choice in our Community Impact Debit Card Program. Our Community Impact Program is FREE to participate in. Members are able to select the Boys & Girls Clubs of Topeka when they choose to participate in Community Impact. Members receive a new Boys & Girls Clubs of Topeka themed debit card, and Azura donates 5 cents to BGC for every purchase made with the debit card. Our Community Impact donations help to fund the fantastic programs at the Boys & Girls Clubs of Topeka!
We are always impressed with the efforts of BGC and the difference they make with our Topeka youth. We are proud to continue our support of the Boys and Girls Club of Topeka.
In the past, we have had the opportunity to provide Club Tech to BGC at the Adam's club, learn more about that project now.
To learn more about enrolling in Azura's Community Impact Program, click here.
To learn about how you can volunteer with the Boys & Girls Clubs of Topeka, visit this link.