If you are looking for a new home this year, our home loan team has five tips to help you feel confident with the home buying experience.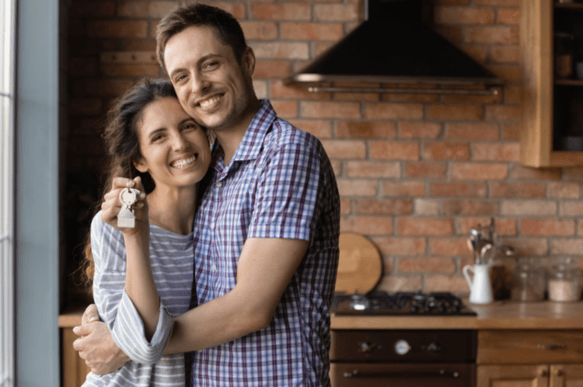 1. Get Pre-Approved.
Getting pre-approved helps you set the framework for price points, payments and being able to quickly submit offers. Get a closer look at how you could benefit from a mortgage preapproval with this 2 minute read on our Above & Beyond Blog.
2. Figure out what you can afford.
It's important to know if monthly home loan payments are going to fit within your existing budget. Beyond the loan payment, you'll need to consider interest rates, taxes, insurance, income, and more. Using a Mortgage Payment Calculator or a Mortgage Affordability Calculator can help you determine if a mortgage payment makes sense for your current budget.
3. Interview Realtors.
Asking family and friends for referrals is a great way to start finding the right realtor for you. Meet the realtor and make sure they are someone you can talk with easily and honestly.
4. Determine what's important.
If you can determine the top features you need in your new home, it will make house hunting easier for you and your realtor. Is the school district your number one priority, a large kitchen for family gatherings, the big backyard or a low maintenance neighborhood? If you outline your top priorities, you will shop with confidence and know the home you purchase is the perfect match.
5. Know what you are buying.
After your contract is accepted, ask for inspections! Resist the temptation to waive a home inspection because this is your chance to discover whether a home has minor issues you can negotiate with or serious problems that may lead you to decide to withdraw your offer. You'll be able to attend most inspections and have the ability to ask questions about findings. While a home inspection will not reveal every issue that exists or ever could exist, it can limit your chances of moving into a home with unknown safety issues or structural flaws.
As you're planning on buying a new home, looking for funds to remodel your existing home, or planning on building the home of your dreams, the Azura Home Loans team is here to answer all your questions about the home buying process, expectations, and how your loan payments and escrow function.
Find more information about the home buying experience on our blog, website, or by contacting the Azura Home Loans team today!
As an Equal Opportunity Lender, We Do Business in Accordance With Federal Fair Lending Laws. Federally insured by NCUA.