At Azura, we take banking Above & Beyond because we are built to serve our community and make it a better place for everyone by giving our time, knowledge, and resources to support local organizations.
Our volunteering
brings people together, strengthens our community, and makes our staff healthier by reducing stress and strengthening our immune system.
Melody Klarer, Contact Center Team Lead, invests in her community by volunteering at the Azura Amphitheater.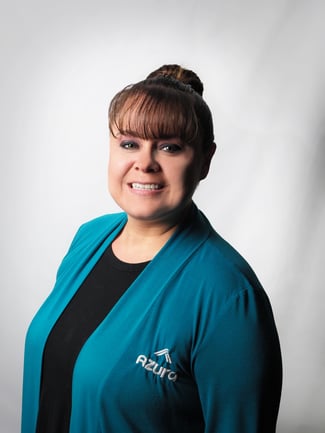 Melody volunteers in her free time at the Azura Amphitheater. "There's nothing like getting out, giving away free swag and listening to live music!"
The reason she became a volunteer for the Azura Amphitheater was because she loved the idea of getting out with Azura members and co workers and just having a good time.
On top of that, Melody finds giving back to the community to be a great feeling. "I love to make people smile, it's just so rewarding."
When asked what advice Melody would give to individuals who are considering volunteering in their free time, she said, "Do it! I think that if you are able to lend a hand you should. We all bring something to the table and we all can make a difference."
Learn more about how Azura helps, and if you want to work to create tangible, sustainable solutions to make our community better each day check out our career openings and come join us!